Service / Quality
CTI Quality Policy
At Contact Technologies Inc., we look for ways to serve our community and to create a culture that engages our employees, which ultimately contributes to creating a quality product that satisfies our customers and is profitable for the company.
Service and Quality
Contact Technologies is ISO 9001:2015 registered. A well-trained workforce utilizing Statistical Process Control and in-process inspections at each manufacturing operation is the basis of our quality process. Final inspection to an approved sampling plan is conducted to certify compliance to customer part specification. In addition, chemical analysis performed for each manufactured lot of material to verify accuracy of metals content. CTI is routinely audited by its electrical OEM customers, and is rated "World Class". CTI invites its customers to visit and audit our operations.
CTI, as a customer-focused company, knows the value of customer service, from the application engineering and quotation process through prototype sampling and into full production. CTI responds quickly to materials engineering and quotation requests. A fully equipped and staffed tool and die shop enables CTI to respond quickly to prototype samples and to move customer designs into full production in a timely manner.
This is accomplished by use of Just-In-Time, Cellular Manufacturing, and Pull type systems, thereby providing manufacturing flexibility. In partnership with the customer, CTI is open to many "Vendor Managed Inventory" programs.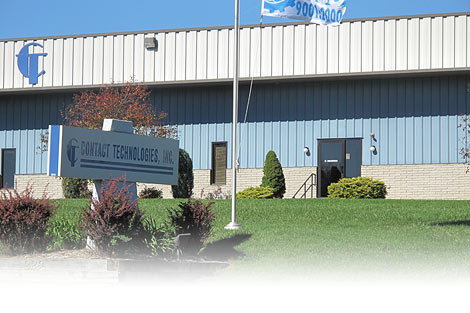 Contact Technologies
229 West Creek Road
St. Marys, PA 15857-0149
tel: 814-834-9000 • fax: 814-834-9771
sales@contactechnologies.com